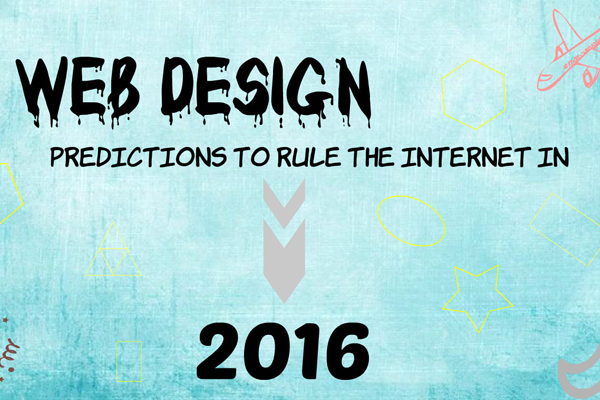 Web design trends tend to differ from industry to industry, but overall all industries tend to follow the same patter from year to year. Just like you say design trends shifting from 2014 to 2015, you can expect a significant change in design trends for 2016. Keep in mind; these trends are dependent on the technology that will support your site. Since there is increasing consideration given to designing for mobile sites with each passing year, UX designers tend to implement elements in their designs that are increasingly supporting for serving visitors better.
Theme Similarity will be on the Decline
Websites with wide/fluid background sections became quite common during 2015 with their typical vertical scrolling. In 2016, you can brace yourself for more creativity along with these features. You will probably also witness more creativity and aesthetic elements added to sliders, and perhaps more creative use of parallax feature strips.
Original Icons and More HTML5/JS/CSS3 Animation
Icon usage is expected to get a tad more complex. Those plain little static ones are all too common, and at the end of 2015, you can already see them being replaced by icons that have some neat little animation. These don't make your pages heavy and they speak volumes of the creativity your brand offers. You might also see custom drawn elements. HTML5/JS/CSS3 will largely be used from animation libraries.
More Appealing Tweaks to be made to Flat Design
Flat design has replaced gradients, and there is an immense amount of other things you can do with it. There will be more creativity woven into flat design to aid designs for mobile versions. However, desktop designs will not be left out, and you will likely see substantial creativity there too. Among some of the things that you will see, there may be: intentions, white space, the 'card' concept, shadows, and animation for building 2D/3D designs.
Classic and Minimal Design will Still be Popular
Among some of the significant trends in design for 2016 will also be the continued use of Classic and Minimalist designs. Parallax is probably going to be used less while large background images will be seen a lot more, which will create a clean site
Last but not the least, will be scrolling, which is seen widely 2015. In 2016, you will still see a fair amount of this, but it is expected to be used less during 2016 due to decrease in demand for long scrolling. Overall, in 2016 you will observe trends that are similar to the ones seen in 2015, but with more creativity and better implementation.